More than 265 million households worldwide will have more than 400 mil…
페이지 정보
작성자

한재천

작성일

18-07-27 17:03 조회1,409회
본문
ㅇ '18. 6월. Parks Associates의 업계 보고서에 따르면 전 세계 OTT 서비스 가입 가구수가 '22년까지 2.65억 가구를 돌파할 것이라고 전망함
※ Parks Associates : 뉴미디어, 홈 네트워크, 인터넷 및 TV 서비스 등 신흥소비재 기술 제품 및 서비스를 전문으로 하는 국제적 시장 조사 및 컨설팅 기관
International firm releases new research examining global connected living innovations and trends
A new industry report from international research firm Parks Associates shows that the number of households worldwide with an OTT video service subscription will exceed 265 million by 2022. The popularity of over-the-top (OTT) video services, such as Netflix, Amazon, and Hulu, has driven a steady increase in adoption of smart TVs and streaming media players since 2010, according to Global Connected Living Outlook: Expanding IoT Momentum.
"Fifty-three percent of U.S. broadband households own a smart TV, and both smart TVs and streaming media players are continually improving the user experience to accommodate the shifting habits of consumers, including integration with voice-based digital assistant ecosystems," said Kristen Hanich, Research Analyst, Parks Associates. "The rise of these digital assistants is another key trend over the last few years, with Apple Siri, Amazon Alexa, Google Assistant, Microsoft Cortana, and Samsung Bixby, among others, now on the market. Both smart home and connected entertainment developers are working to integrate this functionality into their products."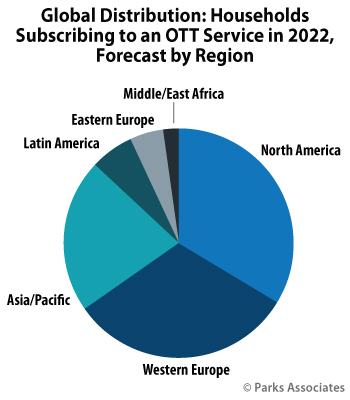 Global Connected Living Outlook: Expanding IoT Momentum also reveals that consumers now own an average of 8.6 connected CE products in their home, an 87% growth in the average volume of devices since 2010. Additional research from the report shows:
More than 70% of U.S. broadband households have an internet-connected entertainment device.
17% own both a smart home device and an internet-connected entertainment device.
Parks Associates estimates over 265 million households worldwide will have a total of more than 400 million OTT video service subscriptions by the end of 2022.
 
"With IoT expansion comes added expectations of interoperability," said Jennifer Kent, Director, Research Quality & Product Development, Parks Associates. "Consumers prioritize general device interoperability over staying within a specific brand ecosystem when considering a purchase; three-fourths of consumers find it important to consider any smart home product brand that will work with other products in their home and 49% find this very important."
Global Connected Living Outlook: Expanding IoT Momentum provides a comprehensive overview and assessment of the markets serving consumers' connected lifestyle. The report identifies key trends and market developments in service categories, including broadband, television and video, digital content, residential security, home energy management, home support services, and connected health and wellness, as well as connected consumer product categories, including home networks, smart home devices, and connected consumer electronics. The report identifies key companies to watch in each product category and includes five-year forecasts for select product categories.
For more information about Parks Associates' research, contact sales@parksassociates.com. To schedule an interview with an analyst or to request specific data, contact Julia Homier at julia.homier@parksassociates.com, 972-996-0214.
About Parks Associates: Parks Associates is an internationally recognized market research and consulting company specializing in emerging consumer technology products and services. Founded in 1986, Parks Associates creates research capital for companies ranging from Fortune 500 to small start-ups through market reports, primary studies, consumer research, custom research, workshops, executive conferences, and annual service subscriptions.
The company's expertise includes the Internet of Things (IoT), digital media and platforms, entertainment and gaming, home networks, Internet and television services, digital health, mobile applications and services, support services, consumer apps, advanced advertising, consumer electronics, energy management, and home control systems and security.
Each year, Parks Associates hosts industry webcasts, the CONNECTIONS™ Conference Series, Smart Energy Summit: Engaging the Consumer, and Connected Health Summit: Engaging Consumers.